GAC Kids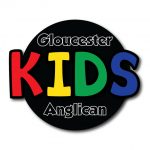 The best way to keep up with what's going on for kids and youth at Gloucester Anglican is on the Gloucester Anglican Church Facebook Page
Kids Church
We have an active and vibrant kid's ministry here at St. Paul's  Gloucester Anglican. Our vision is to see kid's lives transformed through Jesus Christ to the glory of God. Children are encouraged to know and love the Lord Jesus in a caring and safe environment.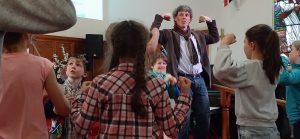 All of our teaching is age appropriate and we cater for kids of all ages. Children are welcomed and cared for by trained volunteers.
If you would like any further information about any of our kid's ministries, please don's hesitate to contact us.
Music Time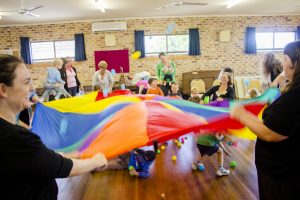 Music Time is a fun music group for kids aged 0-5 with their parents or primary care-givers  that teaches basic music concepts and skills in a Christian environment. Throughout the session, children develop gross and fine motor skills, language, imagination, mathematical and pre-reading skills as well as socialize with others. Children are introduced to music, creativity and more, plus families are given a chance to think about God in their lives.
You're invited to join us for morning tea followed by an informal opportunity to talk about God in your family's life from 11am -11:45am (child minding provided during discussion time)
Where: Gloucester Anglican Church Hall, Hume St Gloucester
When: every week 9:45am for 10 during school term
Cost: gold coin donation a week for each family. Morning tea is included.
We love to meet new families Please contact us with any questions that you may have.
Baptism (Christening)
In recognition that different families are at different places in their Christian walk, we offer two types of services:
The Thanksgiving service. This service is for people who want to give thanks to God for their child but are not yet ready to take on the promises that a baptism service declares. This service is an opportunity to gather friends and family together and give God thanks for the miracle that your child's birth has been. This is a short service (about 20mins) but very significant because in it we spend time praying for your child's wellbeing physically and emotionally but most importantly spiritually. This service can be part of our normal church service or be arranged at another time of your preference.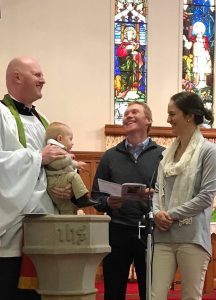 The Baptism service. Children are baptized on the understanding that they will be brought up as faithful members of the church. Those who bring their child to be baptized must declare before the congregation their allegiance to Jesus and commitment to God's people. This will mean that you already do or are keen to attend church and be involved in the life of one of our congregations. We run a baptism course for parents who are looking to have their children baptised.
Please contact Rev. James to speak further about which service is right for your family.