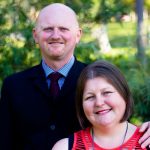 Rob Llewellyn is the minister at Gloucester Anglican. He loves roasting coffee, sports and Jesus Christ.
He met his wife Laura in the Sydney Youth orchestra and after careers as professional classical musicians and having 3 beautiful children (who are now 8, 10 and 13) now have the privilege of introducing people in Gloucester to Jesus full time.
Rob completed a ministry apprenticeship with the AFES group at the Sydney Conservatorium of Music and theological studied at Moore Theological College.